Machinery Mounts - LMS Series
LMS attenuated levelers are designed for leveling, aligning and isolating sensitive electronic manufacturing equipment.
---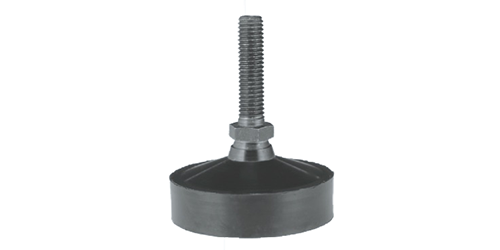 Attenuated levelers designed for leveling and aligning sensitive electronic manufacturing equipment. LMS attenuated levelers are designed for leveling, aligning and isolating sensitive electronic manufacturing equipment. LMS Series levelers feature over .5" of neoprene elastomer bonded to the bottom of the leveler to provide shock-attenuated, non-skid support.
SPECIFICATIONS
| | |
| --- | --- |
| [Natural Frequency] | 10-20 Hertz |
| [Load Range] | 0-1200 |
| [Transmissibility at Resonance] | 8:1 |
| [Resilient Element] | Neoprene |
| [Standard Materials] | Black Corrosion Resistant Steel |
| [Weight] | N/A |
Load Range
Environmental Data
Neoprene elastomer has an operating temperature range of -20°F to +180°F (-30°C to +180°C) and is resistant to oils, most solvents and ozone.
Applications
Semiconductor Equipment
Electronic Manufacturing Equipment
Industrial Machinery
Benefits & Features
Non skid elastomer
Protects floor or surface finish
Extends machinery life
1/2" of elastomer for controlled deflection and attenuation
Data Sheets
Special Options Available
Stiffness
Metals
Metal Paint/Finish
RoHS Compliance
Marking
Packaging
The personal data collected are processed, the responsibility of which is HUTCHINSON AEROSPACE & INDUSTRY INC. company, in order to respond to your request for information and/or for the purpose of commercial prospecting. Mandatory fields to be completed are marked with an asterisk. The legal basis for the processing is your consent, which you may withdraw at any time, without prejudice to previous processing operations. Personal data are reserved for the use of the HUTCHINSON group and may only be transmitted to companies of the HUTCHINSON group and/or commercial partners for commercial purposes, if you have expressly consented to this.
In accordance with the regulation relating to personal data (GDPR), you have the right of access, rectification and erasure of your personal data, as well as the right of opposition to their processing. You may request the disclosure of your personal data and you have the right to define guidelines for the treatment of your personal data after your death. You can also request the portability of your data as well as the limitation of their processing, and/or file a complaint to your local authority.
You can exercise your rights and ask us about the processing of your personal data by contacting us at the following email address: [email protected]
To find out more read our Privacy and Cookies Policy.