Pneumatic Machinery Mounts - SLM Series
Barry SLM Series Pneumatic Elastomeric Mounts
---

Pneumatic Isolation Solution at an Affordable Price
These isolators use an air spring elastomeric isolator with integral heavy wall construction. The rigid wall design of the air mount provides better isolation than traditional air bladder design, delivering 96% vertical isolation and 98% horizontal isolation at 10 Hz. Once filled with air they are virtually maintenance free.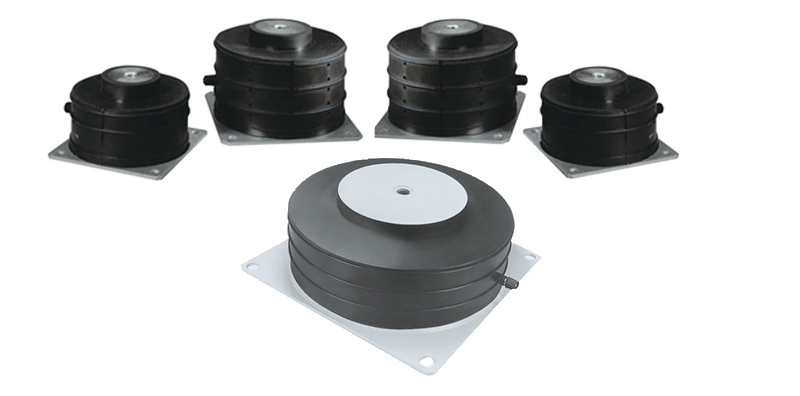 Hutchinson SLM mounts are proudly made in the USA.  Hutchinson (formerly Barry Controls) has been an industry leader in shock and vibration mounts for over 75 years.  Barry Controls developed these pneumatic mounts (in production in America for 50 years) to meet industry needs for high performance vibration isolation in a manageable space envelope.
Pneumatic isolators such as the Hutchinson SLM series allows for excellent vibration isolation performance in a reduced envelope because the air mount relies on air pressure to support the load.  These low frequency vibration isolators reduce transmitted vibration much more efficiently than other types of equipment mounts.  For example – a typical pump mounted on pneumatic isolators with a natural frequency of 3 hz will provide  97.5% isolation compared with 85% vibration reduction on a 10 hz mount.  This improves the performance of all sensitive equipment in the area (and provides greater acoustic isolation as well).
SLM Pneumatic Leveling Mounts allow for easy adjustment and leveling of sensitive production and measurement equipment.</p?
Made in America – Safe, Reliable, High Performance Vibration Isolation
Simplified Pneumatic Mount Selection Table (more complete data below)
Part Number
Metric Part Number
Load Rating
Natural Frequency
Isolation%
at 30 Hz Input
SLM-1A
SLM-M1A
25-100
(11-45 kg)
3 Hz
95%
SLM-3A
SLM-M3A
75-300
(34-136 kg)
3 Hz
95%
SLM-6A
SLM-M6A
150-600
(68-272 kg)
3.3 Hz
95%
SLM-12A
SLM-M12A
300-1200
(136-545 kg)
 3.3 Hz
95%
SLM-24A
SLM-M24A
600-2400
(272-1090 kg)
3.3 Hz
95%
SLM-48A
SLM-M48A
1200-9600
(1090-4360 kg)
3.3 Hz
95%
SLM-96A
SLM-M96A
2400-9600
(1090-4360 kg)
3.3 Hz
95%
SLM-192A
SLM-M192A
4800-19200
(2180-8720 kg)
3.3 Hz
95%
Air Spring and Elastomeric Neoprene Material Provides Superior Isolation
SLM mounts also offer excellent protection against high static deflection, drift and permanent set, thanks to the combination of resiliency of the material and air spring. Neoprene elastomer has an operating temperature range of -20°F to +180°F (-30 °C to +82 °C) and is resistant to oils, most solvents and ozone. The isolator itself will have natural frequency in 3-5 Hz when inflated, however, even if there is no air pressure the isolator still has natural frequency as low as 10 Hz. SLM isolator mount is your ideal solution for machinery and equipment isolation.
Technical Performance Data
Features
SLM series compact air isolator mounts are ideal for applications requiring higher deflection isolators. The SLM's mechanical bond design incorporates a positive locking system to ensure performance and safe operation. It's robust mechanical design and reliable performance makes it the ideal choice for applications such as Industrial equipment, tools and machinery.
Low profile, high capacity pneumatic elastomeric mount
Rigid side wall design for better isolation than air bladders
No leveling valves, gauges, filters or regulators required
Continued support and isolation even with no air pressure
Applications
The high stability and reliability of this Stabl-Levl mounts is ideal for use in mounting vibrators, shakers, vacuum pumps, optical comparators, HVAC equipment and equipment subjected to low frequency shock and/or vibration. (Add in - surface plates, coordinate measuring machines, fans, air compressors, motor/generator sets, high-speed punch presses and more.)
Precision tools
Inspection and metrology equipment
Coordinate measurement machines (CMM),
Optical equipment
Excellent Vibration Isolation Performance of Difficult equipment in a small Space envelope
Vibrators, shakers, pumps, HVAC Equipment
The personal data collected are processed, the responsibility of which is HUTCHINSON AEROSPACE & INDUSTRY INC. company, in order to respond to your request for information and/or for the purpose of commercial prospecting. Mandatory fields to be completed are marked with an asterisk. The legal basis for the processing is your consent, which you may withdraw at any time, without prejudice to previous processing operations. Personal data are reserved for the use of the HUTCHINSON group and may only be transmitted to companies of the HUTCHINSON group and/or commercial partners for commercial purposes, if you have expressly consented to this.
In accordance with the regulation relating to personal data (GDPR), you have the right of access, rectification and erasure of your personal data, as well as the right of opposition to their processing. You may request the disclosure of your personal data and you have the right to define guidelines for the treatment of your personal data after your death. You can also request the portability of your data as well as the limitation of their processing, and/or file a complaint to your local authority.
You can exercise your rights and ask us about the processing of your personal data by contacting us at the following email address: [email protected]
To find out more read our Privacy and Cookies Policy.